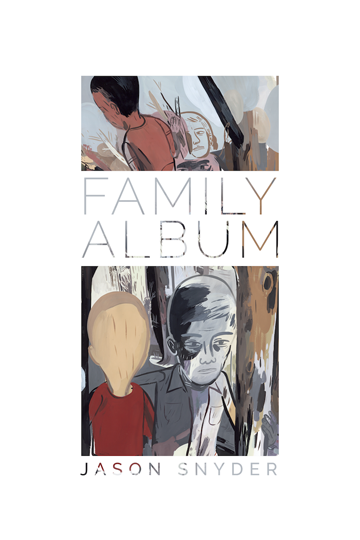 A family attempting to adopt a second child amid its dissolution. A 12-year-old navigating the onset of an emerging psychological disturbance spurred by the scrutiny of the adoption process. Family Album depicts the battleground of a son's identity forming in language, as it processes what one disordered personality bequeaths to another.
---
---
"Like most great novels, Family Album is ambitious for the form itself — what can the novel accomplish? The family remains our national forum, and Jason Snyder has found a way to reveal the family as a funhouse of mirrors — not just ruin, but endless ruin. Not just distance, but distance endlessly fragmented. His writing is at once analytical — even artificial — and yet amazingly compassionate, with a current of pure grief running through. Family Album reminds me of a baroque opera, exquisite and horrifying, with arias and recitatives, refinements and bloodbaths." —Robert Glück
"... delivered with an emotional intensity somewhere between Evan Dara and Dennis Cooper, Jason Snyder's Family Album manages to construct an exhaustive experience of youth and trauma in uncompromising style. A truly heavy hitter that couldn't have come at a more necessary time." —Blake Butler
"Family Album is a haunting chronicle of the ways we are bound and coerced by blood, longing, suffering, fear. A fresh distortion, and a brave debut." —Noy Holland
"An exacting, exquisite and merciless book brimming with expectant dread." —Brian Evenson
"Wherever love means to lie and words aren't for speaking and pain is how you're known, family is taking form, and its emergence is Jason Snyder's work. Family Album is not about a boy's refusal of his parents' banal rage. It's about meaning's freedom from nothing's grip." —R.M. Berry
---
Novels
Selected Publications
The Collagist: Excerpt from Family Album
Sleepingfish 12: Excerpt from Family Album
Harp & Altar: Excerpt from Family Album
American Letters & Commentary: Excerpt from Family Album
The New York Tyrant: Excerpt from Family Album
The New York Tyrant: Excerpt from The Fall
Five Fingers Review: Excerpt from The Haunted Fort
Edited Anthologies
Sidebrow 01, a multivalent narrative threading the work of 65 writers into a book of infinite possibilities and no end
---
04.13.18: Portland Review Reading at Literary Arts with Jenny Forrester, Janice Lee, and Kate Jayroe
02.07.18: Reading at Portland State University with Janice Lee
02.01.18: Second edition of Family Album released by CCM #RECURRENT
12.22.16: Reading at Likewise in Portland with Popahna Brandes, Alicia Cohen, and Miranda Mellis
10.08.16: Family Album reviewed by Eireene Nealand in Tarpaulin Sky: "The result is remarkably immersive, more like watching a film than reading a difficult piece of experimental literature..."
06.15.16: Family Album reviewed by Courtney Morgan in American Book Review: "More than a coming-of-age story, Family Album, Jason Snyder's impressive debut novel, is a story of coming undone, of being unraveled just at the point an identity should begin to coalesce. The novel is a bildungsroman in a twisted looking glass world, where rather than discovering and creating himself as he progresses into adolescence, twelve-year-old Matthew is instead dissected and digested by a sickly cocktail of manipulation, deprecation, abandonment, and 'a more or less permanent condition of atmospheric instability.' But from beneath the battering of psychological abuse, a voice, a self, scratches at the surface, strains to claw its way through..."
06.09.16: Reading at Ristretto in Portland with Elizabeth Hall and Evelyn Hampton
06.08.16: Reading near Good Clean Love in Eugene with Elizabeth Hall and Evelyn Hampton
03.07.16: #RECURRENT Roundtable discussion with Joe Milazzo and Jordan Okumura at Entropy
02.06.16: Reading at Poetic Research Bureau in Los Angeles with Amina Cain and Harold Abramowitz
02.05.16: Family Album reviewed by John Trefry in minor literature(s): "This is a book, that if given the space, affects the reader specifically, surgically, methodically, deeply, and lastingly."
02.04.16: Reading at E.M. Wolfman in Oakland with Syd Staiti
02.03.16: Reading at Booksmith in San Francisco with Colin Winnette and Luke Goebel
01.28.16: Interview with Joe Milazzo about Family Album at Entropy
12.15.15: Family Album excerpt published in The Collagist
12.08.15: Family Album on Entropy's Best of 2015: Best Fiction Books list
---
Jason Snyder is the author of the novel Family Album and the founding editor of Sidebrow Books. He works as an editor and lives in Portland, Ore., with his wife and twins.
He can be reached at jason @ this domain.